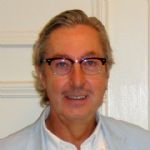 About the Presenter:


-Graduate in Medicine and Surgery, Complutense University of Madrid
-Ph.D. Thesis on "Clinical and Angiofluoresceingraphic Study of Angioid Striations".
-Ph.D. courses approved
-Specialty at the Clinical Hospital of Madrid. EPOM Ophthalmology Chair
-Assistant Professor of the Clinical Hospital Ophthalmology Chair from 1981 to 1987
-Specialty courses at the Professional Ophthalmology School. Madrid Clinical Hospital Ophthalmology Chair.
-Coordinator of the group in charge of treating systemic complications in heroin addiction patients from 1984 to 1987, Clinical Hospital.
-June 1986, appointed Ophthalmology Service Chief of the S.A.S (INI Group), in Castelló Street 68, Madrid.

AT PRESENT:
Chief of the Ophthalmology Service, Quirón University Hospital, Madrid.
Ophthalmologist Director, San Antonio Charity Centre.
Ophthalmologist Director, Reina Sofía Alzheimer Foundation
Member of the Scientific Advisory Committee of La Rebotica.
Member and Health Coordinator of Jurcam publishing house
Publications Director, Spanish Implant and Refractive Ocular Surgery Society.
Director of the Journal of Emmetropia (indexed)
Board of the Panamerican Refractive and Cataract Surgery journal


Memberships
AT PRESENT, MEMBER OF:

Spanish Ophthalmology Society.
Spanish Implant and Refractive Ocular Surgery Society
American Ophthalmology Academy
ASCRS (American Society of Cataract and Refractive Surgery).
ESCRS (European Society of Cataract and Refractive Surgery).
Spanish-American Ophthalmology Society
Member of ALACCSA.
Intralase Experts Committee.
ISCRS (International Society of Cataract and Refractive Surgery).
SCHEPENS International Society.
Spanish Strabology Society
Spanish Ergo-Ophthalmology Society
Member, Clinical Committee, Latin American Association of Cornea, Cataract and Anterior Segment Surgeons
Member, Management Committee of Eyeworld Latin America
Latin American Society of Cataratact and Refractive Surgery. Scientific Advisor and Delegate for Spain
Delegate for Spain of the Latin American Association of Anterior Segment Surgery
Scientific Advisor of the Latin American Anterior Segment Surgery Association (ALACCSA).
Executive Director of The Journal of Emmetropia.

Miscellaneous
CONGRESSES AND PRESENTATIONS

179 Papers presented at national and international congresses
Award for the Best Poster Communication at the 2001 ASCRS Congress
Award for Best Video at the 2002 ASCRS Congress
Director, coordinator and President of 6 national and international Congresses

PUBLICATIONS AND COLLABORATIONS

Author and/or collaborator in ten books on Ophthalmology and four on Social-Health subjects
Articles in important journals with national and international impact
Social and Health opinion articles in various specialized publications
Author and co-author of multiple articles published in high-impact national an international journals
Author of the official Paper of the Spanish Unit of Implant and Refractive Surgery, 2008.