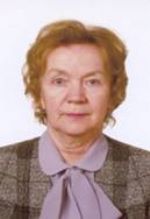 About the Presenter:


Valentina G. Kopayeva - Professor in Clinical Ophthalmology, Doctor of Medical Sciences, Chief Consultant in Scientific Research the Fyodorov Eye State Institute, full member of Russian Academy of Natural Sciences and Laser Academy in Russian Federation.
Professor Kopayeva is a coauthor (with academician S.N. Fyodorov) of the unique technology of laser cataract surgery with 1.44 mcm Nd:YAG laser and capable to operate effectively all density nuclei without manual fragmentation of the nucleus , with spontaneous cracking of the nucleus, without additional (ultrasound) energy. The technology is protected by patents of Russian Federation, Germany and the USA and awarded with prizes and diplomas of Russian Academy of Sciences.
Professor Kopayeva is also author of the following technologies:
-photodynamic therapy in corneal graft neovascularization treatment
-reconstructive surgery of the eye anterior segment based on subtotal
keratoplasty
-astigmatism prevention in penetrating keratoplasty
-pathohistology of the dystrophic changes of cornea and sclera in keratoconus
-conservation of heteroplastic corneas for therapeutic keratoplasty.
Professor Kopayeva is a founder and first director of Training Centre for Russian and overseas ophthalmologists. The Centre educated specialists in academician Fyodorov school .
Professor Kopayeva is chief editor and coauthor of "Eye Diseases" manual officially recommended by Ministry of Education f Russian Federation for medical students training (2002, 2008,2012), author of appr. 400 scientific papers in peer – reviewed journals and 32 patents. She was scientific supervisor for 13 Ph.D. theses and one doctoral thesis.