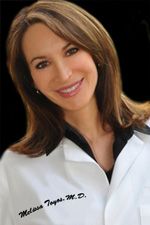 About the Presenter:


Melissa Toyos, MD, FAAO, FACS, is a board-certified ophthalmologist with Discover Vision Centers in Kansas City, MO, specializing in gentle no-stitch cataract surgery, ocular disease and cosmetic procedures.

Dr. Toyos graduated at the top 5% of her class in both her undergraduate and medical degree programs at Louisiana State University. She completed a residency in ophthalmology at the University of Missouri—Kansas City before joining Discover Vision Centers. Dr. Toyos is one of only five partners in the company. With more than 30 doctors, 8 locations and 3 surgery centers located in the Kansas City Metro area, Discover Vision Centers has become one of the largest private ophthalmic medical-surgical practices in the United States.